Commercial Metal Roof Restorations
North Star Roofing installs Conklin® Metal Roof Restoration Systems on all types of commercial and industrial roofs. It isn't a repair or a replacement. It's a restoration—the best of both worlds. A North Star Restoration gives you a leak-free warranty for ten or eighteen years, including all materials and labor. This is an unheard-of warranty and one that we're proud will give you peace of mind.
When you need a long-term solution to STOP rusting metal and roof leaks, you can turn to North Star Roofing.
Metal Roof Restoration Process
Step 1
Apply RustOff and Pressure Wash
Step 1 prepares your metal roof for restoration by removing rust and debris from the surface of the roof.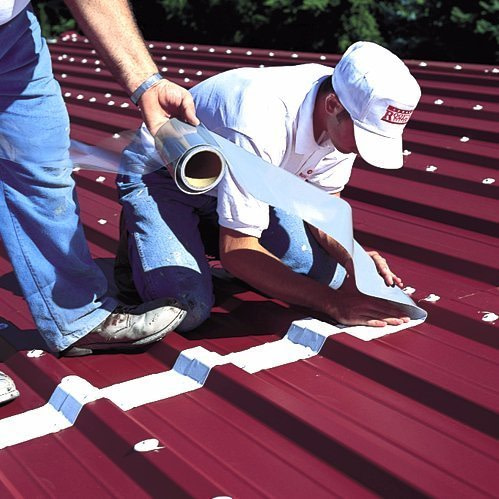 Step 4
Reinforce all Metal Roofing Seams
Step 4 applies the Conklin Spunflex Fabric joint material to all metal roof seams to ensure that they remain weatherproof and do not create vulnerabilities in the roof surface.
Step 2
Prime Entire Roof With Encase Primer
Step 2 adds a thick protective layer of Conklin Encase Primer to protect your roof surface and provide an optimal surface for the final restoration layer to bond to.
Step 5
Seal Entire Roof with Final Layer
Step 5 applies the final Conklin Metal Roof Restorative Layer which is a protective, energy efficient spray on layer that will make your roof look and feel like new.
Step 3
Weather Proof All Fasteners
Step 3 applies the Kwik Kaulk Conklin sealant to all roof fasteners to ensure that they remain weatherproof and do not create vulnerabilities in the roof surface.
Step 6
Completed Project
Your final project is completed and sealed with a worry-free, leak-free guarantee. The best roof is the one you don't have to think about, right?
Don't Put Your Investment at Risk
If your roof is already showing signs of deterioration you could be at risk of more serious and costly damage by delaying repairs. Don't wait till next season to assess the damage to your commercial roof. Let our team of experts provide a free assessment of your roof and provide a free estimate to restore your roof using our proven commercial roof restoration system.