10 Most Common Roof Problems Commercial Building Owners Face
A Roof Repair Guide For Commercial Building Owners
Roof problems can be stressful to a building owner, since it can mean costly repairs or replacements. Below are 10 of the most common roof problems building owners face and how to deal with them.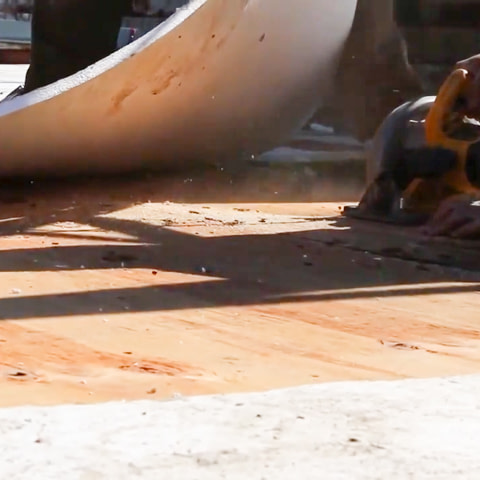 Roof Problem #1: Poor Workmanship or Installation
Solution: Hire only a well-established and reliable roofing company for either roof installation or roof repair. When the installation isn't done correctly, it will only give you more costly repairs or replacements down the road. Look for a roofing company that hires only certified roofing installers in their team and a company that can provide the best solutions for your roofing problems.
Roof Problem #2: Roof Leaks
Solution: Common signs that your roof is leaking include stained ceilings, a foul smell or water dripping.
The first thing you should do is to secure any equipment and clear the area to minimize interior damage. Mark the leaks and check whether it's only limited to one area or if there are other areas leaking. Then get the roof leaks fixed by a reliable roofing company.
Consider a durable roofing system to minimize roof leaks and other problems. We are happy to provide you with long-term solutions for your roof problems.
Roof Problem #3: Punctures and the Addition of Penetrations
Solution: Foot traffic can cause cuts or damages in the roof's membrane or the underlying substrate. Installation of equipment or penetrations can also affect the performance of your roof. Deterioration of the roof membrane may also void the warranty. You can remedy this by adding paths or extra layers of the membrane to effectively protect your roof.
Roof Problem #4: Ridging, Blistering, Surface Erosion and Splitting
Solution: You will most likely experience these roof problems when you have a built-up roofing membrane installed. The best solution would be to hire a pro to resolve the problem. Routine maintenance and inspections can immensely help detect minor problems that could become serious issues. A reliable roofing contractor should be able to provide you with the best solutions.
Roof Problem #5: Billowing, Blow-offs and Tenting
Solution: Blow-offs can occur when flashing in hot bituminous roofs are not properly attached. Billowing in either thermoset membrane or thermoplastic roof membrane could also happen when they are not properly adhered to the substrate. Work only with a reliable roofer to ensure good workmanship and proper installation.
Roof Problem #6: Roof Safety
Solution: Safety should be a top priority during installation or roof repairs. Fires, odors, slips and falls are among the problems that may happen when the contractor isn't taking proper precautions. Make sure that they follow proper safety guidelines for roof installation especially for torch-applied systems. Work with a contractor who has all the safety equipment and supplies needed to do this. This is to avoid falls and complaints among the occupants.
Roof Problem #7: Improper Repairs
Solution: It's imperative to hire a reliable roofing company to avoid improper repairs. This is when the wrong materials are used that could result to even more costly repairs or permanent damage. As much as possible, hire someone who has been in the industry for years as they know how to properly repair roofs.
Roof Problem #8: Shrinkage
Solution: Roof shrinkage is common on EPDM roofs or modified bitumen roofing. It's usually caused by too much UV exposure, aging or poor installation. When not resolved, it could lead to serious problems such as moisture and roof cracks. Make sure you conduct visual inspections to look for evidence of roof shrinkage. Talk to us so we can help you; we do offer free consultations.
Roof Problem #9: Ponding Water
Solution: It's normal for your roof to collect water but they should not stay there for 48 hours or you will have another problem. A few issues that might come up when you constantly have ponding water include insect infestations, roof damage and sagging, unwanted dirt build-up which could lead to moss growth and roof deterioration. The extra load could also pose a big threat to your building's structure. You can remedy this by working on your drainage if you do not have one or adding more. Re-sloping the substrate is also another solution.
Roof Problem #10: Lack of Maintenance
Solution: Some business owners may neglect the maintenance of their roofs especially when newly installed. You can maximize the service life of your roofs when you start a proper maintenance program in its first year. Contractors would be able to anticipate problems or fix minor problems that could give you costly repairs or replacements. Work only with a reliable roofing company for maintenance; better yet, hire contractors that can give you years of warranty so you would not have to spend more on repairs or restoration.
We Can Help You
Is your roof showing signs of damage or deterioration? We want to help. We install Conklin® Metal Roofing Restoration and Membrane Roof Restoration Systems for your commercial and industrial roofs. Talk to us so we can give you a free inspection and provide you with long-term solutions to help you resolve any roof problem. Our commitment is to help you restore your roofs to give you the best of both worlds. Our top priority is to give our clients peace of mind by never having to worry about roofing problems. We can also give you a 10-year or 18-year warranty for your roof.
Our professional and friendly team are always ready to assist. All of our installers are certified and have had enough experience in the roofing industry. We offer Roof Restoration as we want to also help the environment by minimizing the amount of waste by keeping more of your existing roof.
Let us know if you need help. We are just a call away!