A Guide to Flat Roof Repair in Butte, MT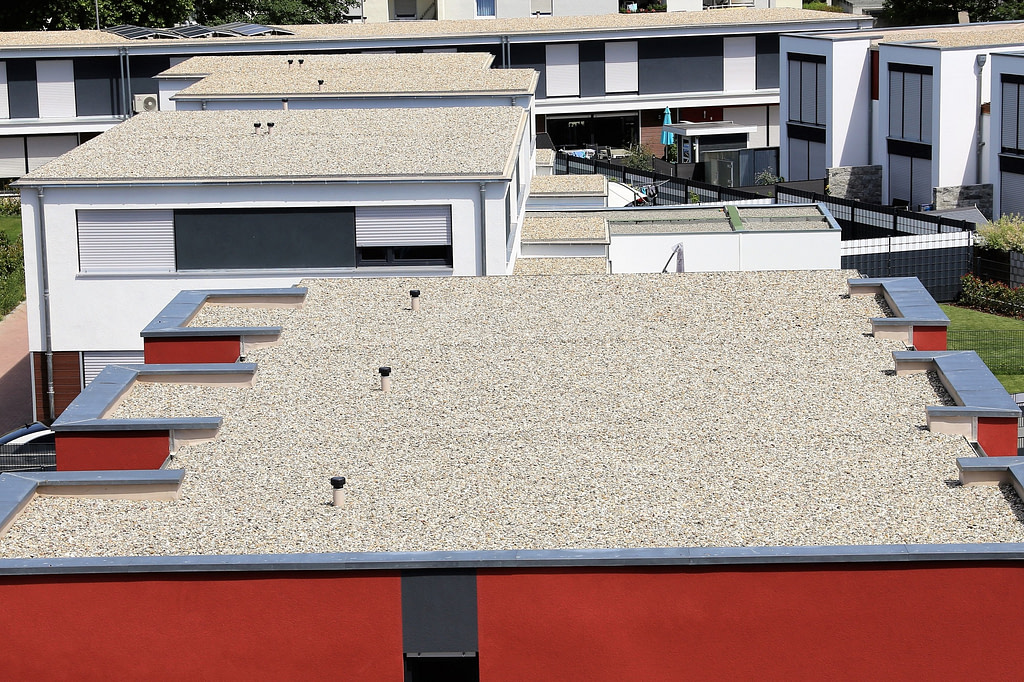 Damaged and leaky flat roofs should be a concern, as in worse-case scenarios, the structural integrity of a building could be at risk!
Recurring roof problems can put a hold on your daily plans, and it can be challenging to figure out the issue sometimes.
How can you tell if your flat roof is beyond the point of repair?
Well, if you're having roof problems in Butte, MT, here is a comprehensive guide that will help you recognize whether you need flat roof repair carrying out or complete commercial roof restoration.
We'll help you identify the best solution by looking at various flat roofing options and describing each one in detail. Plus, we'll check out some maintenance tips you can use to prevent future flat roof issues.
Flat Roof Repair in Butte, MT
Knowing when it's time to call a flat roof company to sort out your roof problem can be tricky. Your flat roof restoration in Butte, MT, could be the way to go.
Flat roofs have some clear advantages over sloping varieties, such as they're easy to access and maintain, less space is needed to build them, and generally cheaper.
Extensive Pooling
One common issue with flat roofs is that they are prone to leakages—more so than the sloped types. Leaks tend to happen once the roof starts to develop pooling, which is when water remains on a roof for typically 48 hours or longer.
With prolonged water exposure, wearing and damage can occur more rapidly, so it's crucial to ensure this isn't happening. If it is happening, you should consider getting the roof replaced.
Rips and Tears
If you notice large rips and tears along the seams of your roof, repair work might be able to solve the issue. If the tears are extensive, a total roof replacement might be the better option.
When there are many rips and tears in a flat roof, it could be close to failing.
Hidden Damage
Some roofing materials such as tar or gravel can make it especially tough to notice any damage. It can even be the case that some roofing contractors may not find all the holes or underlying damage.
Therefore, the only real tell-tale signs with these types of roofs are if you're experiencing obvious leakages. Whatever the case, it might be a good idea to consider replacing your roof with a material that can be more easily maintained.
Commercial Flat Roofing
We specialize in commercial roof restoration in Butte, MT.
There are several commercial flat roofing options that you may already have built-in yet need repair work or complete restoration.
We'll focus on two of the most common commercial roofing types that we can repair for a long-term leak prevention solution.
1. Commercial Membrane Roofs
Several flat roofs come under the commercial membrane category.
Some of these include:
Single-ply
TPO
PVC
Duro-Last
If your commercial roof is made with one of these materials and needs to be replaced, we have a proven methodology that provides you with a very durable and leak-free roof.
Also, if you're unsure about what type of flat roof you have on your commercial property, we can very easily come down and carry out an assessment.
Our restoration process for commercial membrane roofs involves:
Pressure washing your roof's surface
Treating the roof with a detergent
Applying a roof primer
Sealing and reinforcing your roof's seams
Adding a final layer for extra protection
Finished—quick, simple, and highly effective!Single-Ply Roofing in Focus
Single-ply membrane roofs are one of the most popular and effective commercial roofing solutions to choose from.
We use premium thermoplastic membranes, which are overlapped and welded together in the installation process.
The pros to getting this roofing type are that it's incredibly durable, provides an energy-efficient shield, and is fully waterproof. These roofs tend to last a very long time – as can be seen from our previous projects in Butte, MT.
2. Spray Foam Roof Restoration
If you're wanting a super quick and effective way of restoring your roof with little hassle, a spray foam restoration could be on the cards.
We use a polyurethane foam spray-in-place roofing system which can be applied to all types of industrial and commercial flat roofs. This kind of treatment to your roof will give you better energy efficiency and, of course, will prevent leaks over a long period.
Flat Roof Maintenance Tips
Make sure your commercial roof remains in tip-top condition to prolong the need for a full restoration. To do so, follow these tips.
Have Regular Inspections
As a rule of thumb, a reasonable timeframe to get your roof checked is every three to four months. The inspection should be a relatively quick and straightforward process to confirm if the roof remains intact and functioning as it should.
Things like cracks, blisters, and pooling will be check for, and really only a professional will be able to assess if they pose a problem.
Check Your Drainage
Since flat roofs are more likely to retain water and create pooling, regularly take a look at your roof on subsequent days after rainfall for pooling.
If there is significant pooling, get professional help.
Fix Leaks Quickly
If you notice drips, leaks, or water stains on your ceilings or walls, get them fixed quickly. If these issues are left to continue, they can develop into worse problems.
Instead of being tempted to patch these issues up as a short-term fix, it's going to be more cost-effective to get them sorted professionally.
Call a Professional Roof Contractor
Flat roofs are a go-to roofing solution for commercial buildings because they are inexpensive and easy to maintain.
Yet, if issues do arise with your flat roof, it is always better to call professional roofing contractors to ensure the roof is repaired or restored correctly.
Contact us today to find out more about our flat roof repair in Butte, MT.